Saffron is one of the most fragrant spices with a robust color. Nicknamed the sunshine spice for its antidepressant qualities and yellow color, saffron is used as a culinary staple throughout the world. Coveted throughout history as a dye, perfume, medicine, and spice, it remains one of the culinary world's most precious commodities.
Check out these delicious recipes that bring out the earthy, bitter flavour that saffron is renowned for.
Saffron Chamomile and Jasmine Spaghetti
Who doesn't like spaghetti? With this simple dish, you can enjoy the earthy flavours of herbs and spices with the creamy deliciousness of spaghetti. You'll need:
1 tbsp. dried jasmine buds
1 tsp. honey
2 generous pinches of saffron (about 60 strands), or more as needed
Kosher salt
2 sticks unsalted butter
1 tbsp. Plus 1 tsp. dried chamomile flowers, plus fresh flowers for garnish if desired
2 tbsp. yellow cornmeal (fine polenta)
1 lb. spaghettoni
2 tsp. ground dried calendula
First, you'll need to make the jasmine broth. Boil 1 ¾ cups of water, add jasmine and let steep for 10 minutes. Strain the spice, add honey, a little bit of salt, and saffron. Stir until the broth is yellow-coloured. Next, heat butter until melted, add chamomile, steep for 10 minutes, and strain. Simultaneously, add the cornmeal and ½ teaspoon of salt, stir until toasted, and transfer to a bowl.
Boil a pot of salted water, add the jasmine broth, and cook the pasta separately until slightly soft. Transfer pasta into the broth, cook for a few minutes. Place the pasta onto a platter, add ¾ chamomile butter, season with salt, and toss. Sprinkle the cornmeal, add the remaining powder, and serve fresh!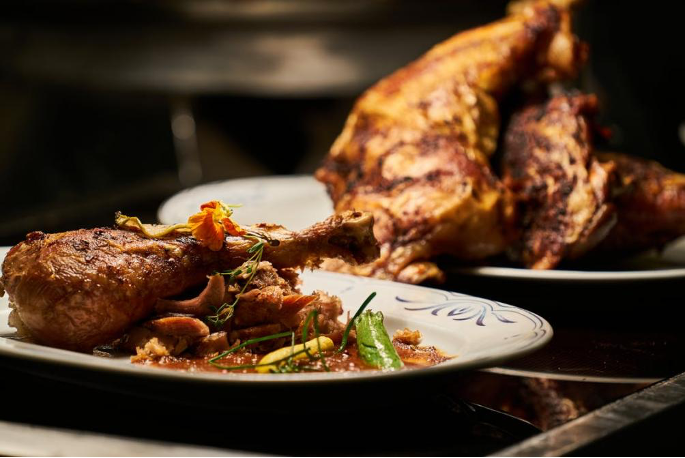 Heat the oven and cook saffron until lightly toasted for 1-2 minutes in a skillet over medium heat. Let the saffron cool, and transfer to a mortar. Add salt and peppercorns, grind until it's a powder. Create a pocket in the chicken breast using your hands, and rub all the spices and place rosemary and lemon slices under the skin and inside the chicken. Tie using a butcher's string, tuck the wings at the back, and roast for an hour until brown. Let it rest for a bit before carving, and enjoy!
In the market for some delicious saffron? Head over to PGI. From premium negin saffron in its raw form to fruity saffron tea, they offer all-natural brews with anti-inflammatory properties all over Australia. Each tea contains pure Persian saffron to enhance its natural flavour and aroma.
Contact them at +61-284-590-002 or email them at info@pgi.net.au for more information.
Lemon Roast Chicken
Roast chicken is a classic dish eaten all across the world. The chicken is rubbed with musky saffron and stuffed with fresh rosemary and lemons for an earthy taste in the Spanish version of the dish. The necessary ingredients are:
1 tsp. saffron threads
2 tsp. kosher salt
1⁄4 tsp. whole black peppercorns
1 (3 1/2-4-lb.) chicken
6 sprigs rosemary
1 thinly sliced lemon
Butcher's string